dornyika.com > ascii
Favourite ASCII art
"ASCII art is a 20th century art movement that utilizes computers for presentation and consists of pictures pieced together from the 95 printable (from a total of 128) characters defined by the ASCII Standard..."
— Wikipedia
One day I was browsing deviantART's "text art" category and collected my favourite typography and ascii art I found on the web. This is here the collection of the ascii art I liked the most.
First of all I have to admit that I removed the initials of the artists from some of the images. Most of these images are from Jaon G. Stark's huge and amazing gallery, the other half from various people I listed below along with their names, initials and - if availabe - link to their homepages.
More detailed "Who is who in ASCII art" can be found here and here. (Many link are broken, though.) Images from unknown authors were taken from ascii-art.de or Goran Gajic's page.
jgs = Joan G. Stark Link
ejm = llizard Link
VK = Veronica Karlsson Link
ldb = Laura Brown Link
b'ger = Joris Bellenger Link
Krogg = Krogg Zothommog Link
lc = Lorrie Carrington Link
mrf = Morfina Link
BP = BluePard Link
a:f = Andreas Freise Link
hjw = Hayley Jane Wakenshaw (Flump)
Keely (cyberfox) = Keely M. Swenson
fsc = Marcin Glinski (StfoReK)
tre = Tom R. Earlywine
as = Asik aka Asia Mazur (asioleck)
lf = Peter Marquardt (last future, lastfuture)
DrS = Al Tinsley (Dr. Stein)
cf = Clover Fernchild
mbfh (BN) = Ben Norwood
-bf- = Bertram Felgenhauer
wtx = Voteck
hh (shimrod) = Herman Hiddema Link
bw = Bertram Felgenhauer
ARV =Alessio Roberti Vittory
mh = Maija Haavisto Link
Pr59 = Praseodymium 59
gnv = Genoveva Galarza
JRO = Jonathan Oglesbee
sjw = Sara Wallen, Very Small Monste
gpyy = Glory Py Yip (Glory Moon)
hjm = Harry Mason (Hajoma)
brojek br = Przemyslaw Brojewski
fL = Felix Lee
mrz = MaraZ - Samu-Martti Roitto
Ool = Ulrich Schreglmann
Riitta Rasimus
Christoph Manz
Neil Smith
Randy Ransom
ind
jsm
ptr
m1a
Wong
Lorraine Day (day@katy.isd.tenet.edu)
Joe Coppick (sxjjc@chinook.uacn.alaska.edu)
Joseph P. Wetstein (jpw@coe.drexel.edu)
hashaday@geocities.com
1. Micro, small and a few bigger ASCII art
I have to say that the smaller the ascii image is, the more I admire it. I don't know whether it is harder to draw or not but I think it requires the artist to be more creative, and it is simply amazing how much you can say with just a few characters. So here are my favourites (grouped in categories):
Animals
Bat (jgs)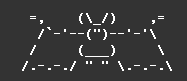 Bat (ejm)


Bunny (jgs)



Rabbit (jgs)


Rabbit (ejm)


Bunny (fsc)


Bunny (mh)


Playboy (jgs)


Cow (jgs)


Cow (? the original)


Cow (hjw)


Cow (tre)


Cow rotated 90? (Randy Ransom)


Dogs (jgs)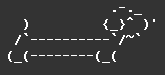 Dog (VK/a:f)


Dog (bw)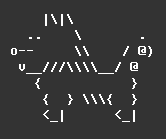 Peeing dog (VK)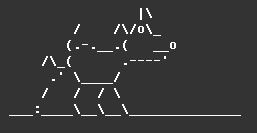 Puppy (jgs)


Mice (jgs)




Mouse (ejm)


Shrew (jgs)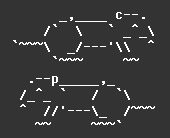 Rat (BP)


Hamster (hjw)


Hedgehog (?)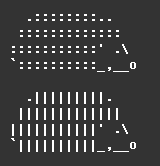 Cockatoo (jgs)


Owls (jgs)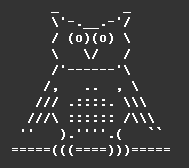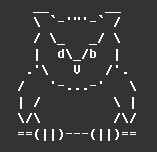 Owl (ejm)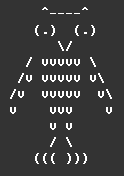 Owl (hjm)


Owl (m1a)


Owl (as)


Owls (b'ger)



O RLY Owls (?)




Rooster (jgs)


Turkey (jgs)


Chick (jgs)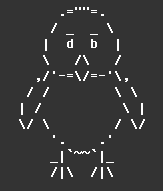 Bird (cf)


Birdy (BP)


Birds (ldb)


Birds (b'ger)


Birds (?)


Penguin (Neil Smith)


Penguin (BP)


Penguin (snd)


Penguin/Linux (hashaday)


Ducks (hjw)


Parrot (?)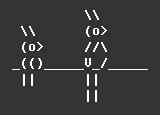 Pigs (jgs)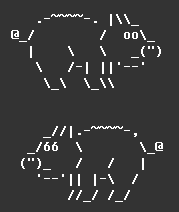 Pig (Christoph Manz)

Pig (ARV)


Pig (Wong)


Squirrel (jgs)


Sheep (jgs)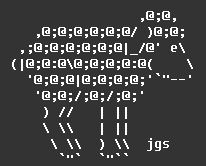 Sheep (b'ger)

Cats (VK)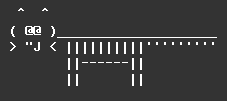 Cat (ejm)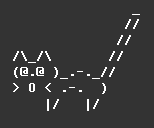 Cat (ldb)


Cat (DrS)


Orangutan (jgs)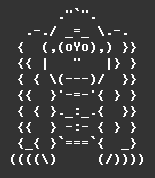 Monkey (ejm)



King Kong (Keely)


Fox (ejm)


Fox (Keely)


Elephant (VK)


Elephants (wtx)


Indian elephant (ejm)


Giraffe (ejm)


Giraffe (fsc)


Koala (mrf)


Koalas (gpyy)



Lion (Lorraine Day)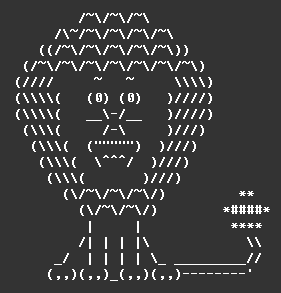 Lion/Cat (VK)


Lion (jgs)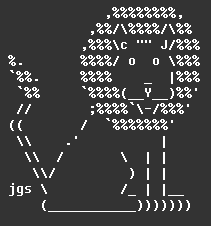 Deer (ejm)


Antler (fsc)


Snail (jgs)


Spiders (jgs)


Ant (tre)


Frog (jgs)


Frog (b'ger)


Frog (?)


Little fish (jgs)


Fish (b'ger)


Fish (Neil Smith)


Crab (jgs)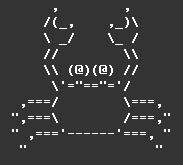 Seal (?)


Turtle (ldb)


Turtle (gnv)


Turtle (JRO)


Turtles (jgs)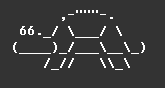 Whales (jgs)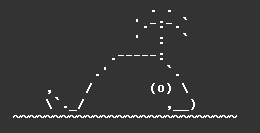 Whale (VK)


Whale (Riitta Rasmus)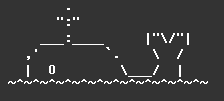 Octopus (hh)


Alligator (jgs)


People
Babies (jgs)


Zorro (jgs)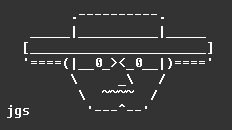 Einstein (jgs)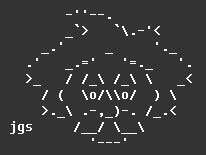 Confucious (jgs)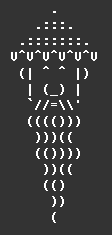 Roman profiles (jgs)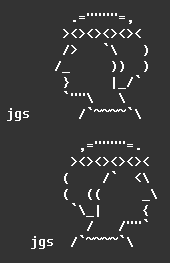 Santa's face (jgs)


Ballerina (jgs)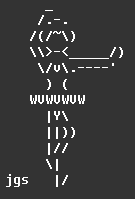 Diver (jgs)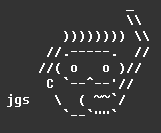 Indian (jgs)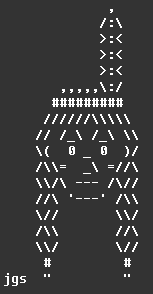 Knight (jgs)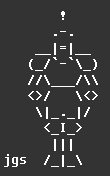 Butler (jgs)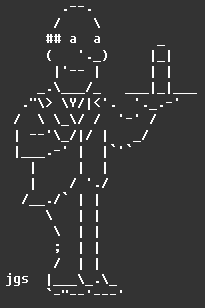 Cannibal (jgs)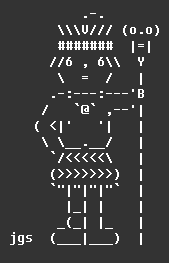 Looking for clues (jgs)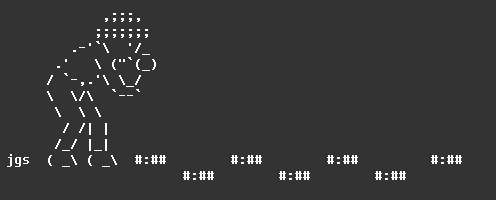 Mamma cooking (jgs)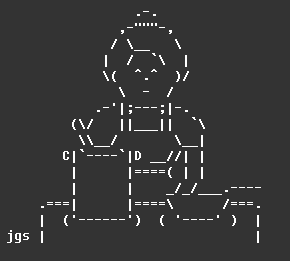 Female flasher (jgs)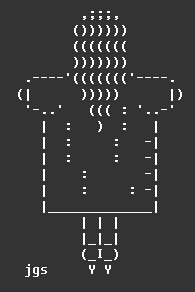 Mom and baby (jgs)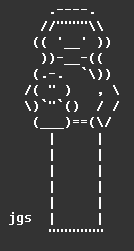 Napoleon (jgs)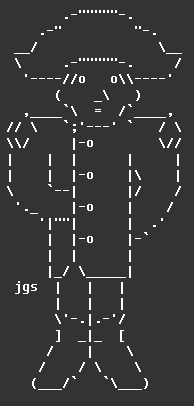 Oriental woman (jgs)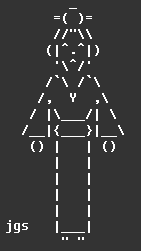 Senior citizen (jgs)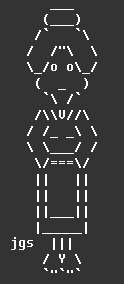 Sherlock Holmes (jgs)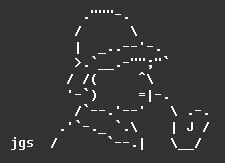 Soldier (jgs)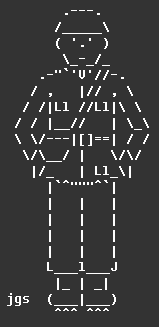 Woman (jgs)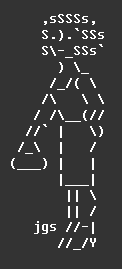 Pharoah (jgs)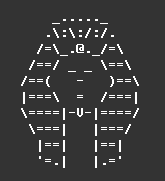 Monk (b'ger)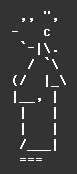 Nurse (b'ger)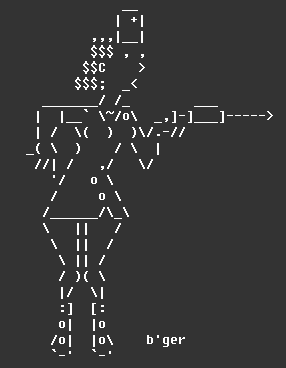 Nurse (?)


Secretary (b'ger)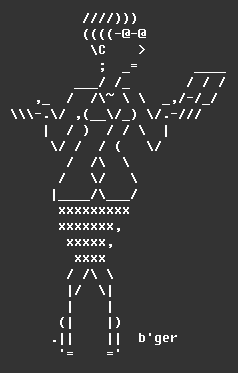 Woman (b'ber)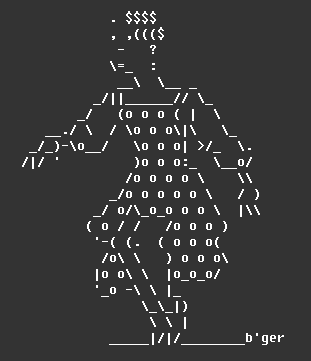 Viking (VK after Jim)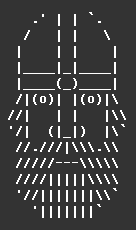 Home, interior, furniture
Bar (jgs)

Bathtub (jgs)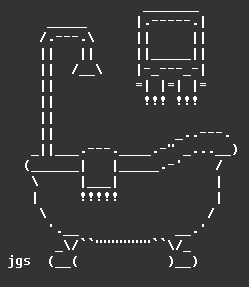 Bed (jgs)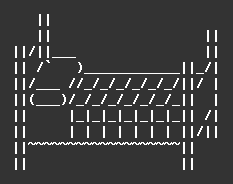 Chair (jgs)


Couch (jgs)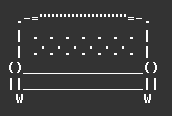 Director's chair (jgs)


Window (jgs)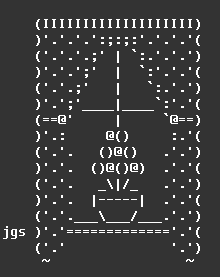 Armchair (?)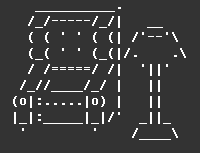 Bar (ejm)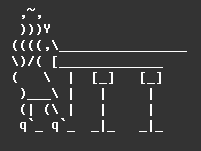 Bathroom (lc)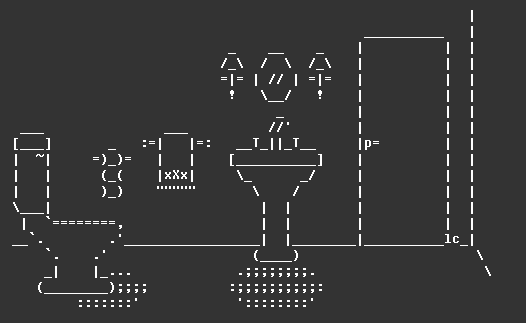 Cafe (ejm)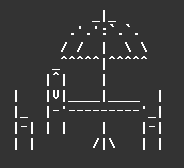 Toilet (Pr59)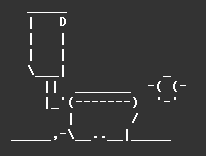 Man at computer (jgs)


Man on toilet (jgs)


Watching TV (brojek)


Man at computer (jgs)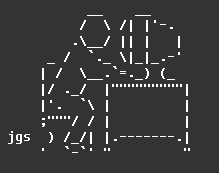 Vehicles, sports, buildings, music
Bicycle (jgs)


Motorcycle (ind)


Motorcycle (jgs)


Cyclist (?)


Canoeing (jgs)


Shopping cart (jgs)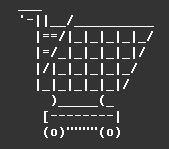 Supermarket trolley (?)


Scooter (jgs)


Pram (ldb)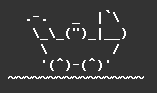 Double decker (jgs)


Car (jgs)


Trucks (jgs)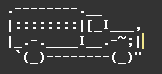 Plane (Joe Coppick)


Plane (Joseph P. Wetstein)


Train (?)


Rockets (jgs)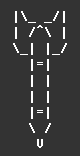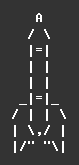 Tank (jgs)


UFO (jgs)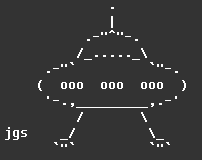 Dart (jgs)


Football (jgs)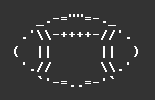 Hockey player (jgs)


Ice skater (jgs)

Parachutists (jgs)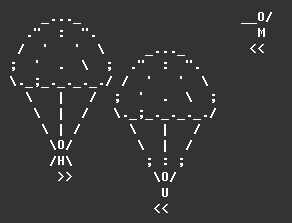 Weightlifter (?)


Swimmer - butterflies (jgs)


Small barn (jgs)


Church (jgs)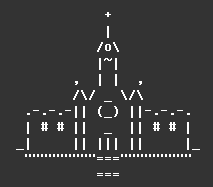 Eiffel Tower (jgs)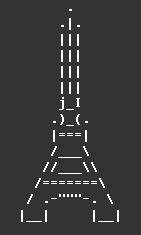 Tiny church (jgs)


Windmill (?)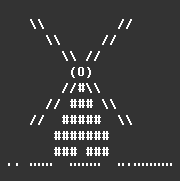 Congas (ejm)


Dancers (ejm)


Pianist (?)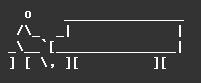 Guitar (VK)


Food and drink
Cooked turkey (jgs)


Chicken (ejm)


Fast food (jgs)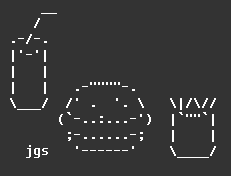 Muffin (jgs)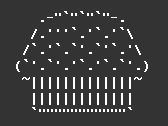 Bottle and glasses - Champagne (jgs)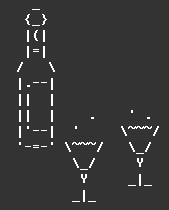 Drink (jgs)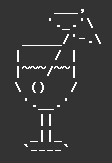 Martini (jgs)


Bread (jgs)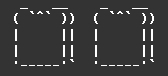 Birthday cake (jgs)


Ice cream (jgs)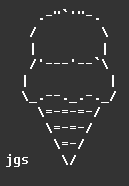 Mugs of beer (jgs)


Water melon (jgs)


Strawberries (jgs)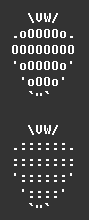 Cabbage (jgs)


Pineapple (jgs)


Pumpkin (jgs)


Peanut (hh)


Household items, tools, electronic devices
Bandage (jgs)


Drugs (jgs)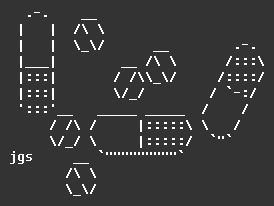 Microscope (jgs)


Axe (jgs)


Axe (VK)


Hammer (jgs)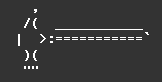 Bolts (jgs)


Chainsaw (jgs)


Corkscrew (mbfh)


Hand drill (lf)


Shovel (jgs)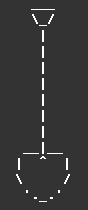 Books (jgs)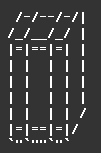 Crayons (jgs)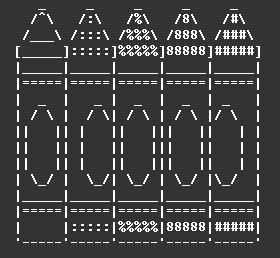 Pencil (jgs)


Safety pins (jgs)



Scissors (jgs)


Scissors (VK)


Clothespin (lc)


Keys (jgs)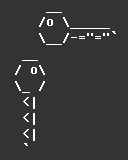 Skate key (jgs)


Laundry (jgs)


Bra (jgs)


Sneakers (jgs)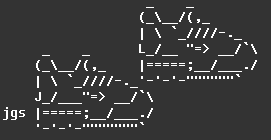 Socks (jgs)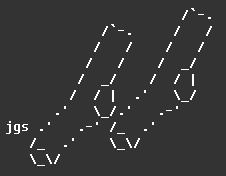 Hat (jgs)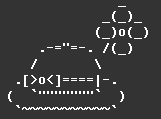 Suitcases (jgs)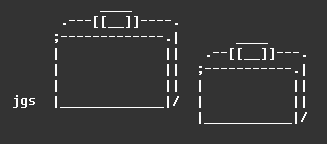 Handbag (Riitta Rasmus)


Pants (fL)


Towel (ejm)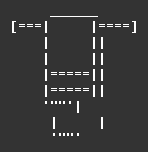 Toaster (jgs)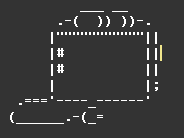 Thermos (jgs)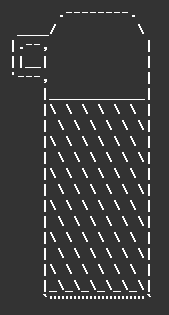 Menorrah (jgs)


Place setting (jgs)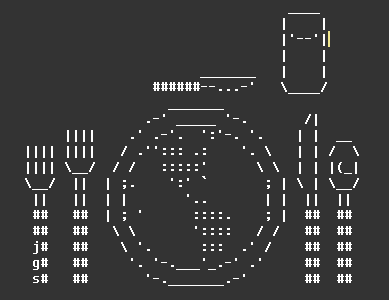 Knife and fork (hjw)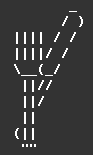 Broom (jgs)


Paint roller (jgs)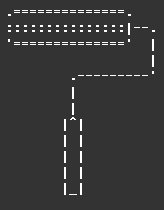 Cigarette (jgs)


Trash can (jgs)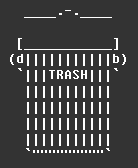 Trash can (ptr)


Lightbulb (jgs)


Tiny light bulb (jgs)


Camera (jgs)


Electric plug (jgs)


TV (jgs)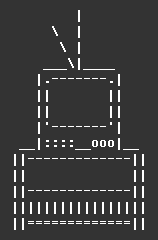 Typewriter (jgs)


Phone (jgs)


Telephone (ldb)


Telephone (sjw)


Mobile phone (sjw)


Mobile phone (jsm)


USB (hjm)


Lawnmower (jgs)


Others
Money bags (jgs)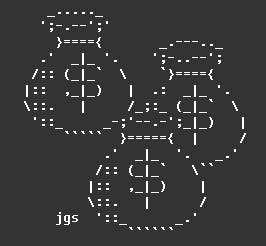 Stethoscope (jgs)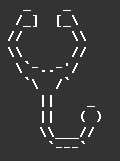 Acorn (jgs)


Angels (jgs)


Folder (jgs)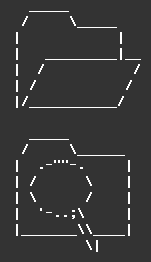 Crown (jgs)


Fire hydrant (jgs)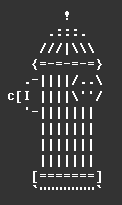 Genie's lamp (jgs)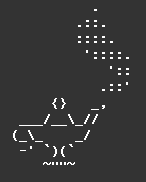 Gift (jgs)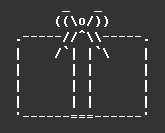 Footprints (jgs)


Ghost (jgs)


Gun (jgs)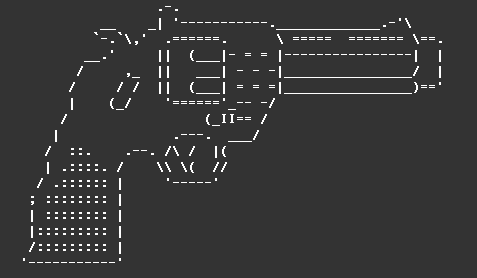 Witch (jgs)


Witch in the moon (jgs)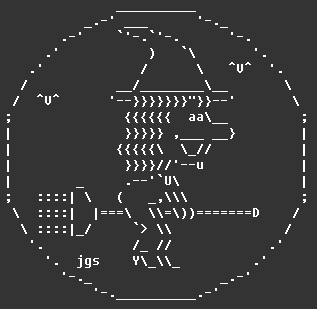 Witch (ldb)


Skull (jgs)


Skull (ldb)


Teddy bear (jgs)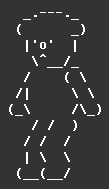 Teddy bears (jgs)


Teeth (jgs)



Chess (VK)


Devil (-bf-)


Snowman (hjw)


Snowman (mrz/Ool)


Lily (ejm)


Torpedo (Krogg)


Thumbs up (?)


2. Smileys/emoticons and other nano art :)
| | |
| --- | --- |
| :D | laughter |
| |-I | asleep |
| :-c | real unhappy |
| ;-) | winking |
| :-O | shocked |
| :-* | kissing |
| \:-) | one eyebrow raised |
| :-\ | thinking |
| :-b | sticking out tongue (right) |
| :-p | sticking out tongue (left) |
| | |
| --- | --- |
| :-{ | moustached |
| :-3 | moustached |
| d:-) | wearing a baseball cap |
| @:-) | wearing a turban |
| 8-) | wearing glasses |
| B-) | sunglasses on head |
| [:-) | wearing a walkman |
| :-)X | wearing a bowtie |
| X:-) | wearing a bow |
| Q:-) | new graduate |
| =:-) | punk |
| +:-) | priest |
| C=:-) | chef |
| [:-] | robot |
| ]:-) | devil |
| | |
| --- | --- |
| \(^o^)/ | very excited (raising hands) |
| (O_O) | shocked |
| (-_-;) | nervousness, sweating |
| (-_-) | annoyance, tired (eyes shut) |
| d[-_-]b | DJ with headphones |
| | I don't know, lol |
| | |
| --- | --- |
| * | spider/shuriken |
| <3 | love/heart |
| <:3 | mouse |
| <:3)~~~ | mouse |
| @-}--- | rose |
| | |
| --- | --- |
| @__ | carpet roll (Krogg) |
| /"\ | volcano (Krogg) |
| [#> | .22 projectile (Krogg) |
| C|_| | coffee mug (Krogg) |
| Y | slingshot (Krogg) |
| >++('> | fish (Krogg) |
| D--(] | shovel (Krogg) |
| O--" | key (lf) |
| >('> | fish |
| (::[]::) | bandage |
3. Cartoon characters (jgs)
Bert and Earnie from Sesame Street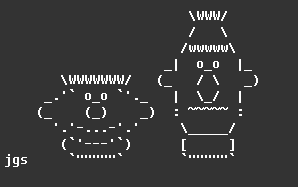 Betty Boop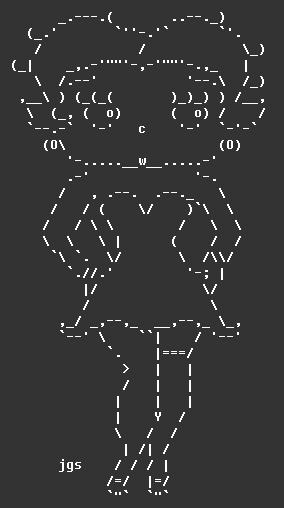 Dilbert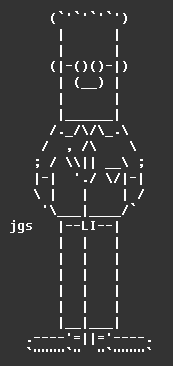 Hello Kitty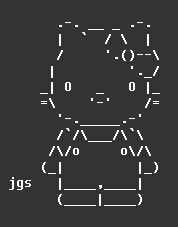 South Park Gang


Snoopy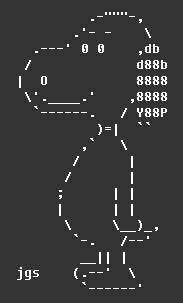 Teletubbies

Tweety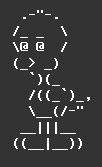 Garfield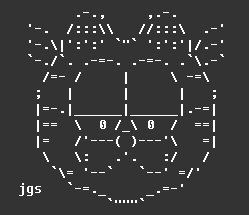 Humpty Dumpty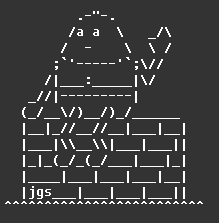 Popeye and Olive Oyl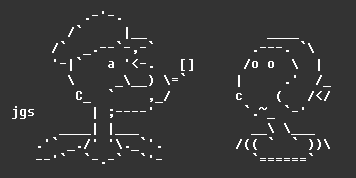 4. Colorized ASCII
Baby (jgs)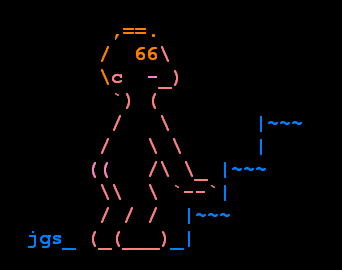 Band (jgs)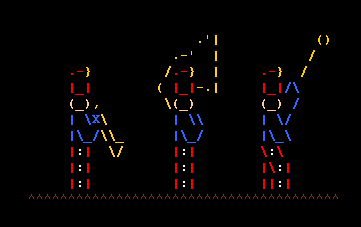 Bandstand (lc)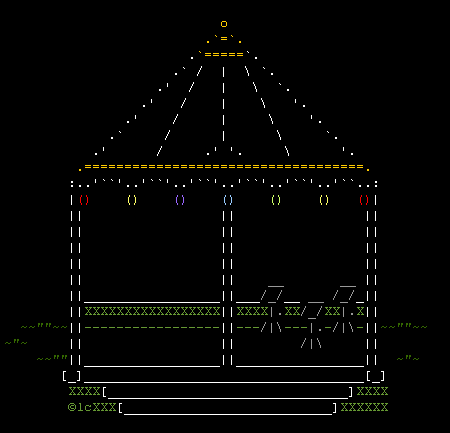 Birds (lc)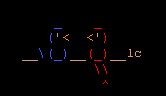 Birds (jgs)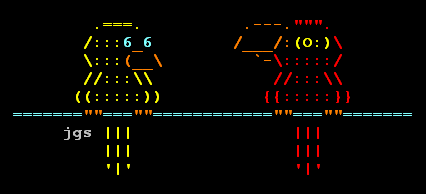 Colibri (jgs)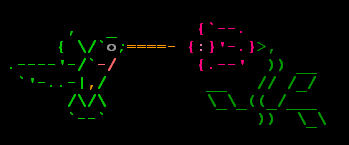 Dressing room (lc)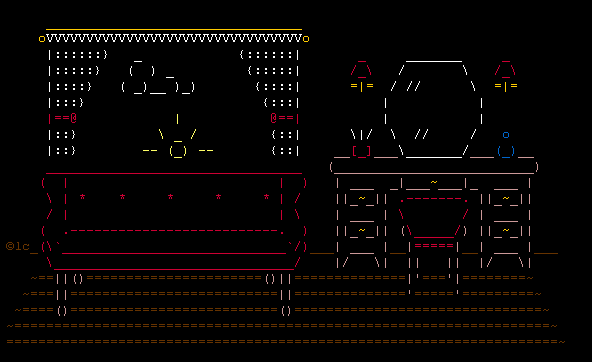 Gas station (lc)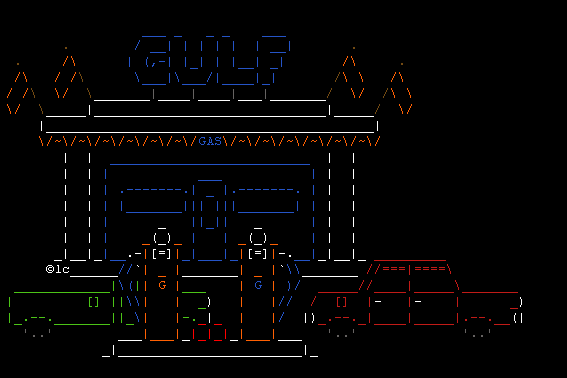 Haunted castle (lc)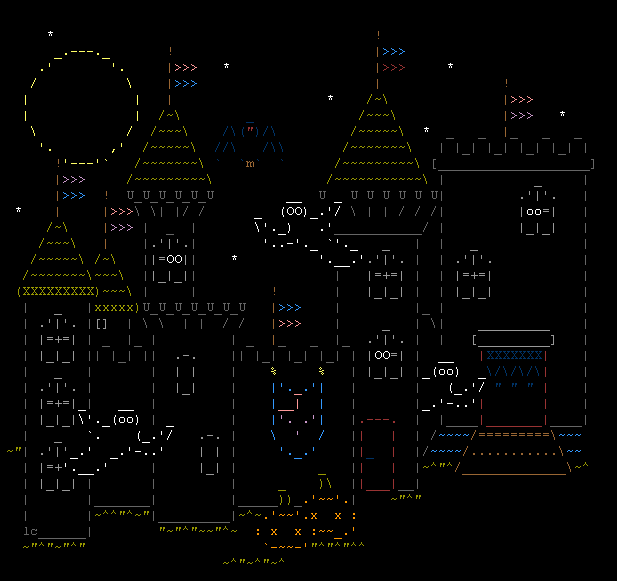 Mouse (jgs)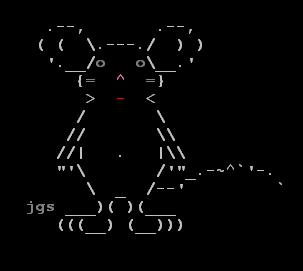 Nutcracker (jgs)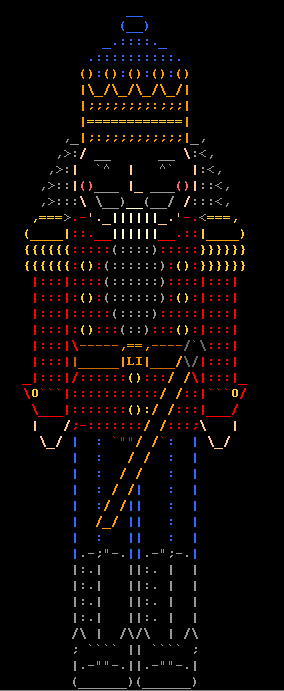 Office (lc)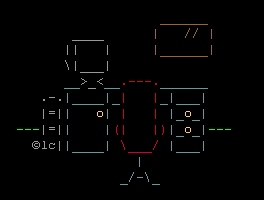 Policeman (jgs)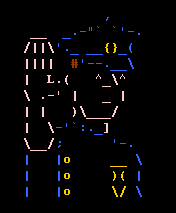 Card: Queen of hearts (lc)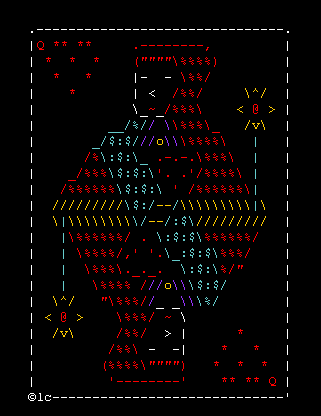 Skater (jgs)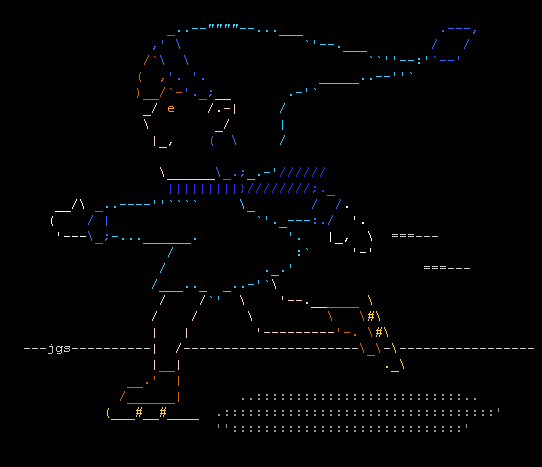 Swimmer (jgs)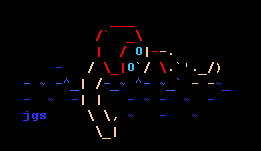 Buckboard wagon (lc)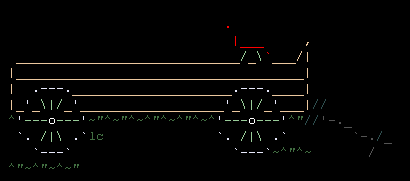 Next time I will post my typography art collection. ;)
(It is unbelievable how much time I am wasting editing these!!!)
2009/03/02 00:02:24